Zebra

The Zebra as it appears in Castle Crashers.
Statistics / Abilities
Other Ability
Helps you find food in grass
Acquisition
Location
Desert Chase
 Zebra is one of the 31 animal orbs available for players to find in the game Castle Crashers.

Location
XBox 360/PS3/PC: The Zebra animal orb can be obtained from a camel rider during the Desert Chase level. Zebra is following the rider so you need to get it quick before he arrives at the castle. When you get near the camel rider, kill him before he comes back to the camel and go away again.
Ability
Primary Ability
"Grass Fruit Search"
Brings you fruit from grass.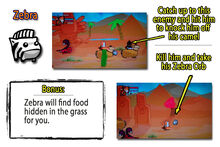 Trivia
Zebras are not normally found in the desert.
The Zebra is a good Animal Orb to take to levels with plenty of grass.
Every patch of grass will have food when you're with Zebra.
Zebra is a C Rank pet.
See also