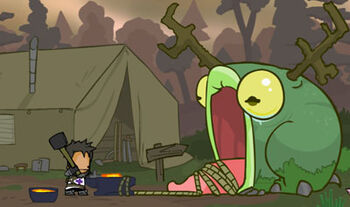 The Weapons Frog is used to store weapons that the player collects throughout the game. It can be accessed by going to the Blacksmith and then walking into the large frog's mouth. Players can check the stats of their weapons here by walking up to them, as well as changing their weapon by pressing the light attack button next to the desired weapon. Dan Paladin stated that the Weapons Frog is called the Giant Frogglet.
Weapons Stored in the Weapons Frog (Original Version) Edit
Weapons are stored within the Weapons Frog in the following groups:
Weapons in the Weapons Frog have been reorganized based on level from lowest to highest:
Group 10
Edit
Group 11
Edit
It is the same frog that the Blacksmith uses as a Splash Attack and Air Projectile.
The Animal Orb Frogglet also resembles the Weapons Frog.
The Weapons Frog is seen with tears in its eyes, suggesting that it is slightly in pain from the rope tied around it's tongue.
It looks small on the outside, but is huge inside, this is likely to save space and leave the level small.
It is not known what music track plays in the Weapons Frog.
Giant Frogglet's heart can be seen near Groups 1 and 2.
See also
Edit
Ad blocker interference detected!
Wikia is a free-to-use site that makes money from advertising. We have a modified experience for viewers using ad blockers

Wikia is not accessible if you've made further modifications. Remove the custom ad blocker rule(s) and the page will load as expected.