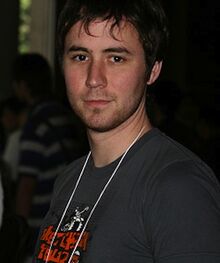 Tom Fulp is the co-owner of video game company The Behemoth, and the creator and administrator of Newgrounds, a popular website for sharing indie games, videos, animation, art and music. He began with his website Newgrounds where it soon became a success.
His first game on the market was Alien Hominid. It was going to be on Newgrounds, but he, along with his team decided to put it on console, there is however a version on Newgrounds that looks like it could be the beta. Alien Hominid was a hit and the Behemoth began working on an other one but decided not to make sequels as they felt it drags the old one down. He soon went on to make Castle Crashers, a huge hit! It is a beat 'em up mixed with RPG elements thrown in. It was first launched on the Xbox 360 but it was so good in sales that they made PC and Playstation versions. It was his first game to have DLC as well! Soon they began there third game, BattleBlock Theater, a platformer, and recently the fourth installment in the Behemoth game line Pit People is an Action RPG game.
He grew up in Perkasie, Pennsylvania.
He is a father.
Tom Fulp and Dan Paladin are partners.
He owns Newgrounds.
He co-owns the Behemoth.
He was born April 30th, 1976.