Seahorse
 is one of the 29
Animal Orbs
 available for players to find in the game 
Castle Crashers
.
XBOX 360/PS3/PC/XBOX ONE: Seahorse is located in the Thieves' Forest. Seahorse is floating over the small stream after the defecating deer. Seahorse is easy to acquire; nothing is required to obtain him.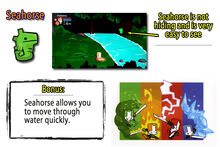 Primary Ability
"Swimming Speed"
Seahorse allows you to move through water much faster than normal. This pet is really only useful in a few levels, as little areas have water.
It's very useful during the Rapids Ride and the Catfish levels when you are without any surface like a boat (gators, wooden trunks, wheels, sharks, thieves corpses and red fishes). It's also very useful during the Flooded Temple level, because you are always in the water.
The Seahorse is a C Rank pet (C+).
Seahorse, Meowburt, Zebra, Scratchpaw, and Chicken are the only Animal Orbs in the entire game that increase Agility.