The Princesses are kidnapped by the Barbarians at the beginning of the game. Throughout the game, players will defeat major bosses and rescue the princesses. If playing in co-op, the players will have to duel until there is one person standing to receive a kiss from the princesses.
(Kissing all of the princesses on Xbox 360 will unlock the achievement "Kay Eye Ess Ess" for 15g).
Red Princess
Edit
After defeating the Barbarian Boss, players will rescue the first princess, also known as the 'Red' or 'Red Headed' Princess.
Blue Princess
Edit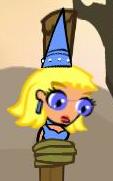 The Blue Princess is found after defeating the Frost King in the Ice Castle.
Green Princess
Edit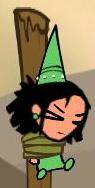 The Green Princess is found after beating Cyclops' Fortress. She still wears the white wedding dress from the Chapel.
Orange Princess
Edit

The last princess saved. After defeating the Evil Wizard and rescuing her, the heroes ride on the giant magic crystal back to the Home Castle for a celebration. Her face is hidden through out the whole game until the final kiss, taking place in the Barracks. The veil is lifted and the winning knight is pushed back to find that the princess is Tricky the Clown. A short clip pops up of penguins running around the screen and The Happy Weasels slowly climb up and down the screen. The game then fades to white, with letters saying "The End."

Note: A good way to avoid this is to let the thief kill you with his arrows trigger the Sandwich Glitch, no one likes Tricky the Clown. Unless you like Madness Combat, in which case, you may kiss the psychotic zombie clown assassin.
Each princess has a matching colored knight (except Gray, Pink, and Purple, though these are not the "default" knights.)
Tricky the Clown might be the Pink Knight because, during the clip, the clown uses all the Pink Knight's abilities excluding the rainbow chain.
The Behemoth has approved the fact that the princesses are not the King's daughters.
The princesses are voiced by Kira Buckland, a well-known Newgrounds user and voice actress.
See also

Edit