The NG Lollipop is one of the 84 weapons a player can obtain in the game Castle Crashers.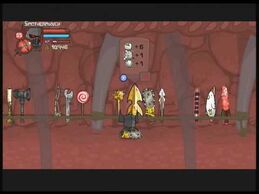 Description
Edit
The Lollipop is a weapon that was released as DLC on January 14, 2009. It increases the agility stat by 5.
The required level to wield this weapon is 1.
The Pink Knight starts the game with this weapon in the PS3, Xbox 360 and Steam versions.​​
The lollipop is seen on the Newgrounds website.
In the flash game Castle Crashing the Beard, the final level up rewards a player with this weapon.
The reason for the +5 Agility is possibly because high intake of sugar can give lots of energy in real life. If picked up, it is possible that your character may sneak a lick and that's how the effects occur. This is only a theory. It could also be that Lollipops are just light in general.
It is the highest agility weapon at level one.
Ad blocker interference detected!
Wikia is a free-to-use site that makes money from advertising. We have a modified experience for viewers using ad blockers

Wikia is not accessible if you've made further modifications. Remove the custom ad blocker rule(s) and the page will load as expected.