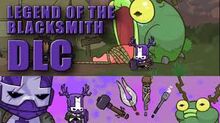 The The Legend of the Blacksmith Pack is a content pack released on the Xbox LIVE Marketplace for 1.99. It contained one character and six weapons. It was also released on Steam for 0.99, and on PS3 for 1.99.
Characters
Edit
| Image | Character | Description | Status |
| --- | --- | --- | --- |
| | Blacksmith | The mysterious Blacksmith is a strong fighter and loyal to the King. He wears purple, which is one of the most expensive out of the dyes. This is most likely a reward from the King to his greatness in battle. He retired and became a lonely old blacksmith, but legend tells he will return to the battlefield... | Released as DLC in the The Legend of the Blacksmith Pack. |
Although it's display on the front banner, this pack does not include Frogglet.
Unlike the Xbox 360 and PlayStation 3 Versions this pack on steam includes 2x4.
Steam simply sells it as "Blacksmith Pack" as appose to "Legend of the Blacksmith Pack."