Flowery Field is the twelfth level in Castle Crashers. This level usually provides no challenge to the player(s), the only part that might give someone trouble is when the Coneheads are introduced.
Walkthrough
Edit
Sometime between Waves 1-3, the King will be knocked off of his horse. Make sure to hop on it and use it to mop the floor with enemies.
At the end of the ledge, two catapults are rolled up. Hop on it, and a bar will appear with the force of the catapult depending on where players press

/

/[Key Bind] You will be launched onto the castle walls with 5 other Gray Knights.
At the far right, you'll come to a window where you can break into the castle. The event continues in Wedding Crash.
There are no animal orbs to be found on this level.
Video Walkthrough
Edit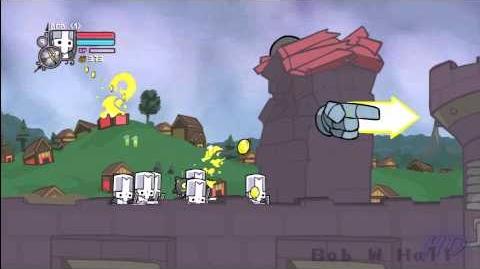 Succession
Edit
Ad blocker interference detected!
Wikia is a free-to-use site that makes money from advertising. We have a modified experience for viewers using ad blockers

Wikia is not accessible if you've made further modifications. Remove the custom ad blocker rule(s) and the page will load as expected.