Flowery Field
Comments

0
312pages on
this wiki
Flowery Field is the twelfth level Level in Castle Crashers. The Bees and Beekeepers can hit very hard, so players should watch their health bar.
WalkthroughEdit
Fight your way through the killer bees to the right. If the King gets knocked off his horse, be sure to hop on it and use it to wipe the floor with all the enemies. To the far right you'll find some catapults. Hop onto one and press the X button (

) when the charge meter is full (if you time it right, you'll unlock an Achievement) and you will go flying onto the castle walls. Follow the other knights up the ladder.,
Battle your way across the top of the castle then drop down where you see the "X". Be careful as these Coneheads can also throw bombs. To the right you'll face a group of Coneheads and one beefy one. As long as you have some of your own Gray Knights, he should be a pushover. Make your way to the far right and you'll come to a window where you can break into the castle.
Refined Mace - Return to this area after acquiring the shovel. After the first wave of bees you can find this weapon buried underneath an X.
Rat Beating Bat - This weapon is randomly dropped by the beekeeper enemies in the level. You can use the Monkeyface animal orb to increase your luck finding it.
Animal Orbs
Edit
There are no animal orbs to be found on this level.
Video Walkthrough
Edit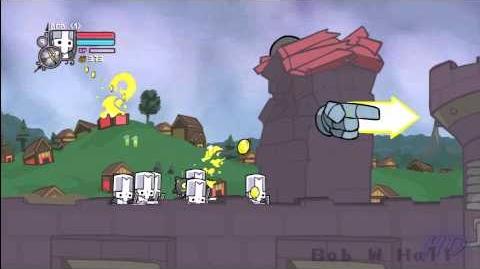 Succession
Edit