Cardinal

Cardinal as it appears in Castle Crashers.
Statistics / Abilities
Other Ability
Finds secret items
Acquisition
Location
Industrial Castle
Cardinal is one of the 31 animal orbs available for players to find in the game Castle Crashers.
Location
XBOX 360/PS3/PC: The Cardinal can be found In the Industrial Castle level after the elevator ride. Defeat the beefy Brute who has the Cardinal following him to obtain it.
Ability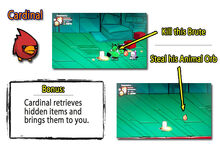 Hidden Ability
"Magic Boost"
Boosts the player's magic by +2.
See also
Trivia
Cardinal is commonly referred to as "Angry Bird", because of his similar appearance to the red bird in the game Angry Birds.
The Cardinal is a B rank pet.
In the the later Behemoth game Battleblock Theater, he can eventually be unlocked as a Prisoner head, except without the feet.
On the Xbox 360, players can unlock the Cardinal Animal Orb as a Prop for their Avatars by playing through the game.
Ad blocker interference detected!
Wikia is a free-to-use site that makes money from advertising. We have a modified experience for viewers using ad blockers

Wikia is not accessible if you've made further modifications. Remove the custom ad blocker rule(s) and the page will load as expected.