Blue Knight
is one of the 31
Playable Characters
in the game
Castle Crashers Remastered
. His magical attacks are
Ice
and his starting weapon is the
Sheathed Sword
.

Blue Knight's specialties include ultimate crowd control, basic juggling, and ultimate elemental combo locking.
Involvement
Edit
Blue Knight is one of the King's Knights, to whom he serves with loyalty, helping get the princesses back and defeating the Evil Wizard.
Unlock Path
Edit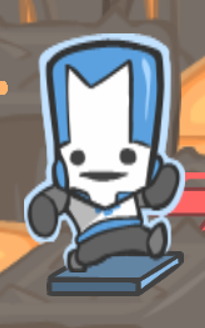 Blue Knight is an S Rank character (S-).
Blue Knight is the only character in the game with every magical attack being Ice.
Blue Knight's weapon in the opening demo is a Thin Sword.
Blue Knight's portrait background, player tag, and attack colour is Blue (#609FFC).
On the Xbox 360, players can dress up their Avatar as the Blue Knight by purchasing both the helmet and tunic in the Avatar Store.
See also
Edit